Long evening dress crocheted on the floor "Summer Marshmallow"
Yes, truly everything beautiful and elegant is simple! See how elegant and stylish a modest white dress can be! We offer you a free description and scheme of such a model.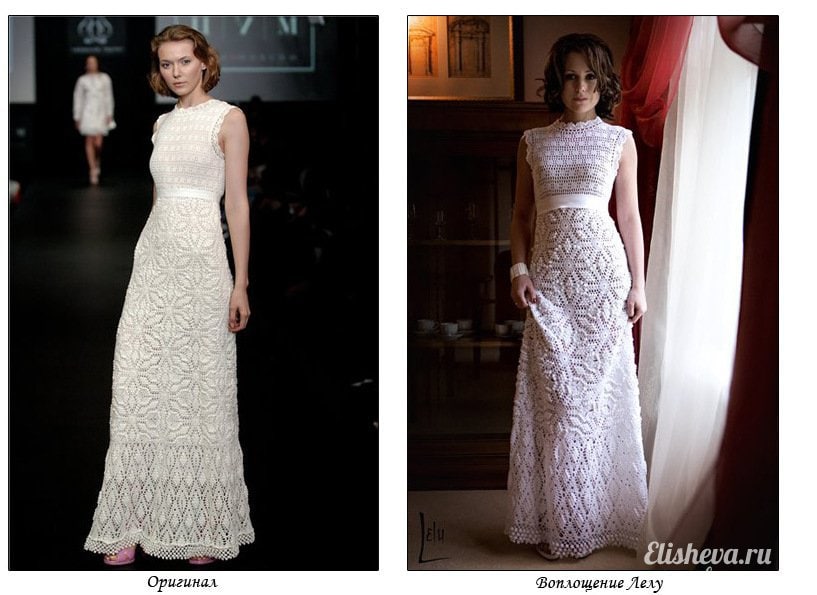 Dress Size: 42. Model's height is 168 cm.
To make the dress, we need white yarn (60% viscose, 40% acrylic, 550m / 100g) - about 650 grams; hooks №2, №2,5 and №3.
Note: If you make five-crochets with one double crochet, you will need a little less yarn. The upper part of the dress is done with crochet No. 2, the middle part with crochet No. 2.5, and the bottom is finished with crochet No. 3.
Description of work
The motivate part: we start work with the motivated part, in Figure 2 we look at the complete motif scheme. And, for the smoothest expansion of the hem of the skirt to the bottom, we use the following technique: the motives in the top of the skirt are not fully performed, but only until the second or even the first row of cones.To the bottom, we increase the size of the motifs and only at the very bottom perform them completely. We perform eight motives 2-shek (motifs ending with the second row of cones), we enclose them in a ring. At the same time, we form at the same time a smooth edge from the top of the skirt and attach four half motives of 2-ki (see picture No. 5). The half motive - the scheme is shown in figure №3. Next, we continue to work in accordance with the selected distribution of rows. Methods of connecting motifs are shown in the figure. Important! During the transition from one motive to another, you do not need to cut the thread.
Elegant white dress ready.
Related news
Why girls leave
What does sign with
How to activate the sim card Beeline
Children's game Learn the colors
What is IDS
Tara