Romantic sweets and baskets with berry cream
You will need
- 200 g of dark chocolate;
- 5 tablespoons of sugar;
- 200 g of white chocolate (porous);
- 150 g of raspberry (can be frozen);
- 450 g strawberries (can be frozen),
- 25 g of gelatin (instant);
- 2 tablespoons of condensed milk;
- pastry bag (zip lock bags (grippers);
Instruction
Prepare chocolate baskets. Melt 35 g of white chocolate in a water bath and, using a wooden skewer, put hearts on the inside of silicone cake makers, you can also use foil molds. First make the hearts on one side of the molds. Give them a little to harden, then, putting the molds "on the flank", then put the hearts everywhere. Put them in the fridge for 15 minutes or in the freezer for 5 minutes.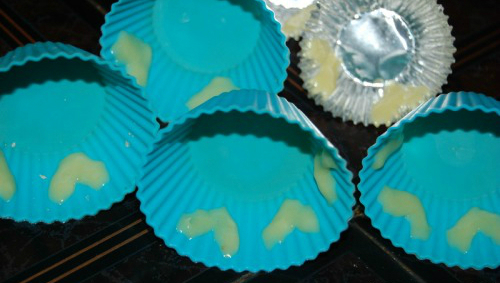 Melt 150 g of black chocolate in a water bath and apply in several stages cooled, but still liquid chocolate on white chocolate hearts and molds. The walls of chocolate should not be very thin.Place in the freezer for 5 minutes or in the refrigerator for 20 minutes.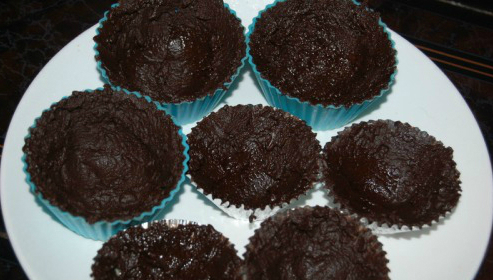 Make white chocolate and raspberry cream. Thaw the raspberries, rub through a sieve and evaporate on the fire to such a state that there are 3 tablespoons of berry puree. Add condensed milk and stir. Put white chocolate (130 g), chopped into pieces and stir until the lumps disappear. Put the cream in the fridge for at least 4 hours to cool.
Prepare teaspoons and fill them with white chocolate and raspberry cream with a pastry syringe. Place in freezer for 10 minutes.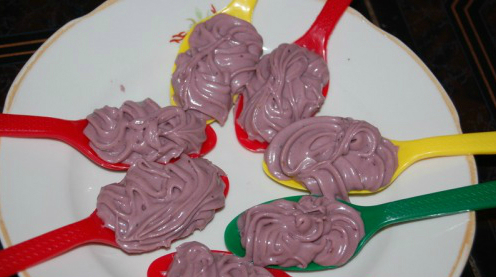 On cooled chocolate raspberry cream in teaspoons from above, apply black chocolate evenly. To do this, melt dark chocolate (50 g) in a water bath, fill with a cooled chocolate a small pastry bag and spread it on top of a chocolate-raspberry cream. Refrigerate in the freezer for 5 minutes.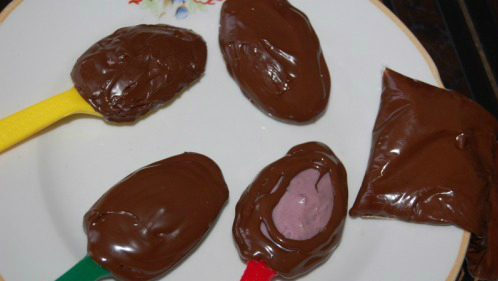 Take out the spoons of their fridge and make white chocolate romantic inscriptions and drawings on black chocolate. You must first melt the white chocolate (35 g) in a water bath and place in a pastry bag.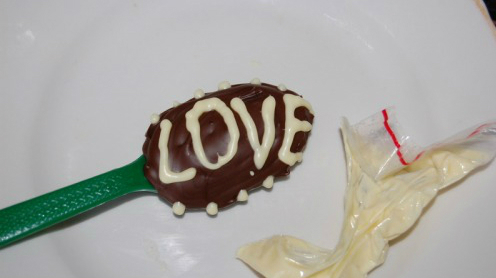 Make a strawberry cream.Thaw strawberries, pass through a sieve. Mix with sugar and diluted gelatin. Stir until gelatin is completely dissolved. Cool to room temperature and beat with a mixer until a loose mass is formed within 7-8 minutes.

Remove the baskets from the refrigerator and gently release the silicone molds or foil. At the bottom of the chocolate baskets push out with a cooking syringe, one teaspoonful of chocolate raspberry cream.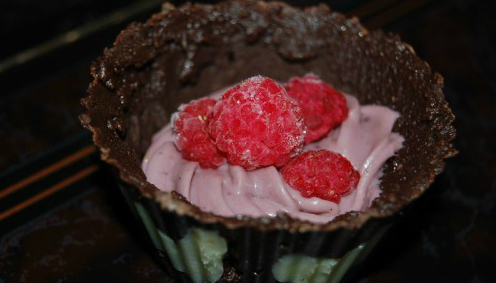 Put some raspberry on a chocolate-raspberry cream. Top up with strawberry cream. Then - again chocolate raspberry cream. It should be borne in mind that strawberry cream hardens pretty quickly, so you need to work with it quickly.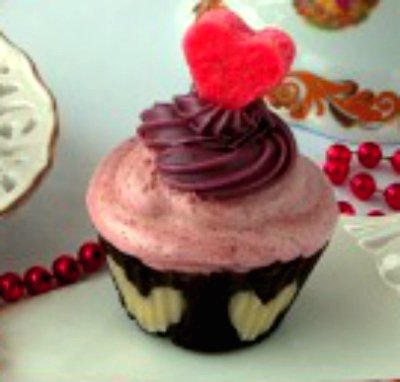 Related news
How and with what does diabetes develop?
Angelina Jolie embroiled in child abuse abuse scandal
Top 10 Proven Rules for Successful Travel
Self-affirmation: why do we assert ourselves
The main trailer of Beauty and the Beast with Emma Watson
How to draw mumps
Bright pop art in the interior of housing (11 photos)
Fashionable shoes spring 2014